DERMATOLOGICAL ISSUES IN PATIENT WITH PARKINSON'S DISEASE
Keywords:
Skin disorder, Parkinson disease, seborrheic dermatitis, bullous pemphigoid, rosacea, and melanoma
Abstract
To determine the incidence rate of seborrheic dermatitis, bullous pemphigoid, rosacea, and melanoma among the patients diagnosed with Parkinson's Disease. A cross-sectional, observational study. From 13th May 2020 to 13th April 2022 at Bahria International Hospital, Lahore, Pakistan. A total of 80 patients with confirmed Parkinson's disease were evaluated for skin disorders. Disease severity was confirmed through Hoehn Yahr staging criteria (H-Y stage). Skin characteristics and disease diagnosis was made through finding sebum production levels, hot/cold flush test, immunofluorescence, and biopsy evaluation for seborrheic dermatitis, rosacea, bullous pemphigoid, and melanoma, respectively. The test results were compared with the control subject. Chi2 and student t-test was used to find the significance of the results. Out of 80, 44 patients were positive for skin disorders. The incidence of seborrheic dermatitis was found in 31.2% of patients whereas rosacea, bullous pemphigoid, and melanoma were found in 15%, 6.2%, and 2.5% of patients, respectively. Skin disorders are highly prevalent among Parkinson's disease patients than in the control population. The study invites further research in this area so that the quality of life of patients could be improved.
References
Adalsteinsson, J. A., Kaushik, S., Muzumdar, S., Guttman‐Yassky, E., and Ungar, J. (2020). An update on the microbiology, immunology and genetics of seborrheic dermatitis. Experimental dermatology 29, 481-489.
Algiert‐Zielińska, B., Mucha, P., and Rotsztejn, H. (2018). Comparative evaluation of skin moisture after topical application of 10% and 30% lactobionic acid. Journal of cosmetic dermatology 17, 1096-1100.
Arsenijevic, V. S. A., Milobratovic, D., Barac, A. M., Vekic, B., Marinkovic, J., and Kostic, V. S. (2014). A laboratory-based study on patients with Parkinson's disease and seborrheic dermatitis: the presence and density of Malassezia yeasts, their different species and enzymes production. BMC dermatology 14, 1-9.
Brick, K. E., Weaver, C. H., Savica, R., Lohse, C. M., Pittelkow, M. R., Boeve, B. F., Gibson, L. E., Camilleri, M. J., and Wieland, C. N. (2014). A population-based study of the association between bullous pemphigoid and neurologic disorders. Journal of the American Academy of Dermatology 71, 1191-1197.
Chaudhuri, K. R., Healy, D. G., and Schapira, A. H. (2006). Non-motor symptoms of Parkinson's disease: diagnosis and management. The Lancet Neurology 5, 235-245.
Cordel, N., Chosidow, O., Hellot, M.-F., Delaporte, E., Lok, C., Vaillant, L., Bernard, P., D'Incan, M., Roujeau, J. C., and Joly, P. (2007). Neurological disorders in patients with bullous pemphigoid. Dermatology 215, 187-191.
Egeberg, A., Hansen, P. R., Gislason, G. H., and Thyssen, J. P. (2016). Exploring the association between rosacea and Parkinson disease: a Danish nationwide cohort study. JAMA neurology 73, 529-534.
Gregory, R., and Miller, S. (2015). Parkinson's disease and the skin. Practical Neurology 15, 246-249.
Gros, P., and Videnovic, A. (2020). Overview of sleep and circadian rhythm disorders in Parkinson disease. Clinics in geriatric medicine 36, 119-130.
Liu, R., Gao, X., Lu, Y., and Chen, H. (2011). Meta-analysis of the relationship between Parkinson disease and melanoma. Neurology 76, 2002-2009.
Moustafa, A. A., Chakravarthy, S., Phillips, J. R., Gupta, A., Keri, S., Polner, B., Frank, M. J., and Jahanshahi, M. (2016). Motor symptoms in Parkinson's disease: A unified framework. Neuroscience & Biobehavioral Reviews 68, 727-740.
Pan, T., Zhu, J., Hwu, W.-J., and Jankovic, J. (2012). The role of alpha-synuclein in melanin synthesis in melanoma and dopaminergic neuronal cells. PloS one 7, e45183.
Qin, J., Qiao, L., Hu, J., Xu, J., Du, L., Wang, Q., and Ye, R. (2020). New method for large‐scale facial skin sebum quantification and skin type classification. Journal of Cosmetic Dermatology.
Ravn, A.-H., Thyssen, J. P., and Egeberg, A. (2017). Skin disorders in Parkinson's disease: potential biomarkers and risk factors. Clinical, cosmetic and investigational dermatology 10, 87-92.
Shahid, W., Satyjeet, F., Kumari, R., Raj, K., Kumar, V., Afroz, M. N., and Memon, M. K. (2020). Dermatological Manifestations of Parkinson's Disease: Clues for Diagnosis. Cureus 12, e10836-e10836.
Simon, D. K., Tanner, C. M., and Brundin, P. (2020). Parkinson Disease Epidemiology, Pathology, Genetics, and Pathophysiology. Clinics in Geriatric Medicine 36, 1-12.
Sung, V. W., and Nicholas, A. P. (2013). Nonmotor Symptoms in Parkinson's Disease: Expanding the View of Parkinson's Disease Beyond a Pure Motor, Pure Dopaminergic Problem. Neurologic Clinics 31, S1-S16.
Tanaka, J., Henderson, C., and Nicholas, M. W. (2018). Skin Disease and Neurological Conditions of the Elderly. Current Geriatrics Reports 7, 238-242.
Tysnes, O.-B., and Storstein, A. (2017). Epidemiology of Parkinson's disease. Journal of Neural Transmission 124, 901-905.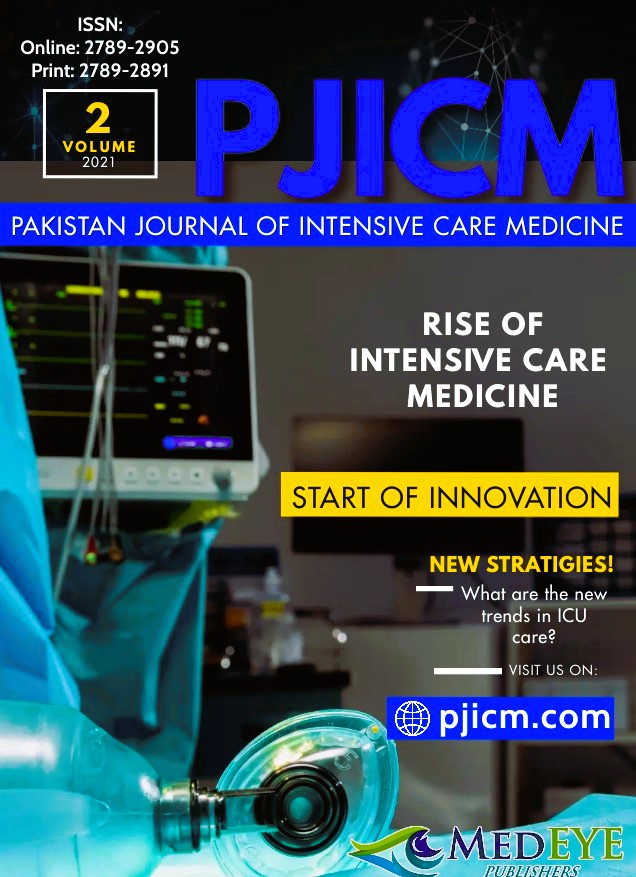 Downloads
How to Cite
PERVAIZ, M., GULL, N., MERCHANT, S., ARIF, B., NAZ, A., WAHEED, M., RAZA, S., TAJ, S., & ALI, I. (2022). DERMATOLOGICAL ISSUES IN PATIENT WITH PARKINSON'S DISEASE. Pakistan Journal of Intensive Care Medicine, 2022(1), 11. https://doi.org/10.54112/pjicm.v2022i1.11
Section
Original Research Articles
License
Copyright (c) 2022 MR PERVAIZ, N GULL, SMA MERCHANT, B ARIF, A NAZ, M WAHEED, S RAZA, S TAJ, I ALI
This work is licensed under a Creative Commons Attribution-NonCommercial 4.0 International License.