ASSESSMENT OF D. DIMER VALUE IN COVID-19 INFECTED PATIENTS
Keywords:
COVID-19, D. Dimer, prognosis, co-morbid conditions, severity of disease
Abstract
A global catastrophe caused by the COVID-19 epidemic has had negative effects on both health and the economy. The coagulation system may be involved in the pathophysiology of COVID-19 since D-Dimer, a measure of hypercoagulability, is higher in COVID-19 individuals with severe illness. In order to determine whether there is a relationship between D-Dimer levels and disease severity, this study measured the levels of D-Dimer in COVID-19 patients with severe and non-severe disease. The average age of the 72 confirmed COVID-19 patients in the research was 52.85 10.65. Based on the severity, the individuals were split into two groups, and the levels of D-Dimer were measured in each group. In contrast to individuals with less severe symptoms, those with severe COVID-19 symptoms had considerably higher levels of D-Dimer, according to the study. Cough, fever, breathing difficulties, and gastrointestinal symptoms were also discovered in the study to be statistically significant in patients with severe symptoms. The most prevalent co-morbid conditions among the individuals were hypertension and diabetes. These results emphasise the significance of identifying patients at risk for poor outcomes, tracking their D-Dimer levels and suggesting that D-Dimer levels may be a helpful prognostic marker in COVID-19 patients.
References
Arumugam, V. A., Thangavelu, S., Fathah, Z., Ravindran, P., Sanjeev, A. M. A., Babu, S., Meyyazhagan, A., Yatoo, M. I., Sharun, K., and Tiwari, R. (2020). COVID-19 and the world with co-morbidities of heart disease, hypertension and diabetes. J Pure Appl Microbiol 14, 1623-1638.
Chandel, A., Patolia, S., Looby, M., Bade, N., Khangoora, V., and King, C. S. (2021). Association of D-dimer and fibrinogen with hypercoagulability in COVID-19 requiring extracorporeal membrane oxygenation. Journal of intensive care medicine 36, 689-695.
Cheng, A., Hu, L., Wang, Y., Huang, L., Zhao, L., Zhang, C., Liu, X., Xu, R., Liu, F., and Li, J. (2020). Diagnostic performance of initial blood urea nitrogen combined with D-dimer levels for predicting in-hospital mortality in COVID-19 patients. International journal of antimicrobial agents 56, 106110.
Demelo-Rodríguez, P., Cervilla-Muñoz, E., Ordieres-Ortega, L., Parra-Virto, A., Toledano-Macías, M., Toledo-Samaniego, N., García-García, A., García-Fernández-Bravo, I., Ji, Z., and de-Miguel-Diez, J. (2020). Incidence of asymptomatic deep vein thrombosis in patients with COVID-19 pneumonia and elevated D-dimer levels. Thrombosis research 192, 23-26.
Gungor, B., Atici, A., Baycan, O. F., Alici, G., Ozturk, F., Tugrul, S., Asoglu, R., Cevik, E., Sahin, I., and Barman, H. A. (2021). Elevated D-dimer levels on admission are associated with severity and increased risk of mortality in COVID-19: A systematic review and meta-analysis. The American journal of emergency medicine 39, 173-179.
Li, J., Liu, Z., Wu, G., Yi, M., Chen, Y., Li, K., Xu, X., Xiao, L., Wu, Q., and Chen, J. (2020). D-Dimer as a prognostic indicator in critically ill patients hospitalized with COVID-19 in Leishenshan Hospital, Wuhan, China. Frontiers in Pharmacology 11, 600592.
Moazzami, B., Chaichian, S., Kasaeian, A., Djalalinia, S., Akhlaghdoust, M., Eslami, M., and Broumand, B. (2020). Metabolic risk factors and risk of Covid-19: A systematic review and meta-analysis. PloS one 15, e0243600.
Song, X., Ji, J., Reva, B., Joshi, H., Calinawan, A. P., Mazumdar, M., Wisnivesky, J. P., Taioli, E., Wang, P., and Veluswamy, R. R. (2021). Post-anticoagulant D-dimer is a highly prognostic biomarker of COVID-19 mortality. ERJ Open Research 7.
Vidali, S., Morosetti, D., Cossu, E., Luisi, M. L. E., Pancani, S., Semeraro, V., and Consales, G. (2020). D-dimer as an indicator of prognosis in SARS-CoV-2 infection: a systematic review. ERJ open research 6.
Williams, A., Branscome, H., Khatkar, P., Mensah, G. A., Al Sharif, S., Pinto, D. O., DeMarino, C., and Kashanchi, F. (2021). A comprehensive review of COVID-19 biology, diagnostics, therapeutics, and disease impacting the central nervous system. Journal of neurovirology, 1-24.
Yang, J., Hu, J., and Zhu, C. (2021). Obesity aggravates COVID‐19: a systematic review and meta‐analysis. Journal of medical virology 93, 257-261.
Zaim, S., Chong, J. H., Sankaranarayanan, V., and Harky, A. (2020). COVID-19 and multiorgan response. Current problems in cardiology 45, 100618.
Zhan, H., Chen, H., Liu, C., Cheng, L., Yan, S., Li, H., and Li, Y. (2021). Diagnostic value of D-dimer in COVID-19: a meta-analysis and meta-regression. Clinical and Applied Thrombosis/Hemostasis 27, 10760296211010976.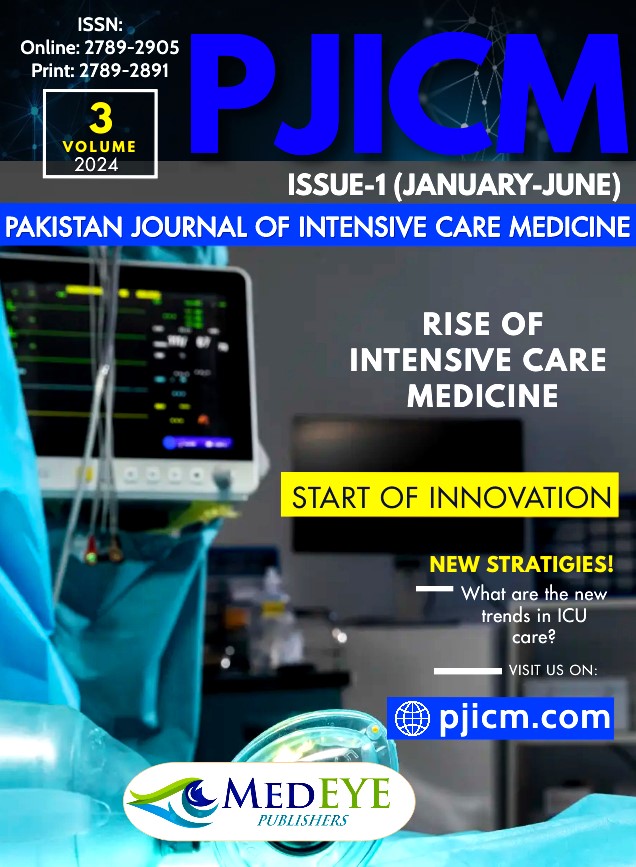 Downloads
How to Cite
PERVAIZ, R., ARIF, B., TEHREEM, K., GULL, N., MUNAWAR, A., RAZA, S., & SUFIYAN, M. (2023). ASSESSMENT OF D. DIMER VALUE IN COVID-19 INFECTED PATIENTS. Pakistan Journal of Intensive Care Medicine, 2023(1), 16. https://doi.org/10.54112/pjicm.v2023i1.16
Section
Original Research Articles
License
Copyright (c) 2023 R PERVAIZ, B ARIF, K TEHREEM, N GULL, A MUNAWAR, S RAZA, M SUFIYAN
This work is licensed under a Creative Commons Attribution-NonCommercial 4.0 International License.