STRATEGIES TO ALLOW FAMILY VISITS TO ACUTE CARE UNITS DURING THE COVID-19 PANDEMIC
Keywords:
social withdrawal, health communications, Intensive care units, COVID-19 Pandemics, communicable illnesses
Abstract
During pandemics, hospital administration does not allow family members to visit their loved ones. There is a need to develop standards and processes that may be followed when a family member enters an ICU or ward to prevent cross infection. These rules should also be put in place during epidemics to ensure that family have safe access to their patients.
References
Abrams, E. M., Shaker, M., Oppenheimer, J., Davis, R. S., Bukstein, D. A., and Greenhawt, M. (2020). The challenges and opportunities for shared decision making highlighted by COVID-19. The Journal of Allergy and Clinical Immunology: In Practice.
Ågård, A. S., Egerod, I., Tønnesen, E., and Lomborg, K. (2015). From spouse to caregiver and back: A grounded theory study of post‐intensive care unit spousal caregiving. Journal of advanced nursing 71, 1892-1903.
Ali J, A. Q., Hafeez MM, Malik A (2020). Clinical features, diagnosis and treatment of COVID-19. Biol. Clin. Sci. Res. J 2020.
Bauchner, H., Fontanarosa, P. B., and Livingston, E. H. (2020). Conserving supply of personal protective equipment—a call for ideas. Jama 323, 1911-1911.
Benita, F. (2021). Human mobility behavior in COVID-19: A systematic literature review and bibliometric analysis. Sustainable Cities and Society 70, 102916.
Brooke, J., and Clark, M. (2020). Older people's early experience of household isolation and social distancing during COVID‐19. Journal of clinical nursing 29, 4387-4402.
Cook, D. J., Takaoka, A., Hoad, N., Swinton, M., Clarke, F. J., Rudkowski, J. C., Heels-Ansdell, D., Boyle, A., Toledo, F., and Dennis, B. B. (2021). Clinician perspectives on caring for dying patients during the pandemic: A mixed-methods study. Annals of internal medicine 174, 493-500.
Dwivedi, Y. K., Hughes, D. L., Coombs, C., Constantiou, I., Duan, Y., Edwards, J. S., Gupta, B., Lal, B., Misra, S., and Prashant, P. (2020). Impact of COVID-19 pandemic on information management research and practice: Transforming education, work and life. International Journal of Information Management 55, 102211.
Guest, J. F., Keating, T., Gould, D., and Wigglesworth, N. (2019). Modelling the costs and consequences of reducing healthcare-associated infections by improving hand hygiene in an average hospital in England. BMJ open 9, e029971.
Hart, J. L., Turnbull, A. E., Oppenheim, I. M., and Courtright, K. R. (2020). Family-centered care during the COVID-19 era. Journal of Pain and Symptom Management 60, e93-e97.
Herridge, M. S., Moss, M., Hough, C. L., Hopkins, R. O., Rice, T. W., Bienvenu, O. J., and Azoulay, E. (2016). Recovery and outcomes after the acute respiratory distress syndrome (ARDS) in patients and their family caregivers. Intensive care medicine 42, 725-738.
Jan, A. Socio-Economic and Psychological Impacts of Covid-19: A Case Study of Quarantined Village Ziarat Talash in Dir Lower, Pakistan. Liberal Arts and Social Sciences International Journal 4, 1-10.
Khan, K. M., and Ullah, N. (2021). Post COVID-19 financial distress in Pakistan: Prediction of corporate defaults at Pakistan Stock Exchange. Liberal Arts and Social Sciences International Journal (LASSIJ) 5, 286-400.
Mady, A. F., Ramdan, O., Al Yousef, R., Ishag, A., Bakirova, G., Kuhail, A., Shahzad, S., El-Etreby, W., Mumtaz, S., Almozainy, S., Palacio, K., Aldamahshi, D., Alcazar, A., Alodat, M., Abdelrahman, B., and Harthy, A. (2020). COVID 19 critical care training surge experience for physicians in riyadh health cluster one, Saudi Arabia. Biological and Clinical Sciences Research Journal 2020, e041.
Mears, S. C., and Kates, S. L. (2015). A guide to improving the care of patients with fragility fractures, edition 2. Geriatric orthopaedic surgery & rehabilitation 6, 58-120.
O'Neill, O. A., and Rothbard, N. P. (2017). Is love all you need? The effects of emotional culture, suppression, and work–family conflict on firefighter risk-taking and health. Academy of Management Journal 60, 78-108.
Oliver, N., Barber, X., Roomp, K., and Roomp, K. (2020). Assessing the impact of the COVID-19 pandemic in Spain: large-scale, online, self-reported population survey. Journal of medical Internet research 22, e21319.
Phua, J., Weng, L., Ling, L., Egi, M., Lim, C.-M., Divatia, J. V., Shrestha, B. R., Arabi, Y. M., Ng, J., and Gomersall, C. D. (2020). Intensive care management of coronavirus disease 2019 (COVID-19): challenges and recommendations. The lancet respiratory medicine 8, 506-517.
Puci, M. V., Nosari, G., Loi, F., Puci, G. V., Montomoli, C., and Ferraro, O. E. (2020). Risk perception and worries among health care workers in the covid-19 pandemic: findings from an Italian survey. In "Healthcare", Vol. 8, pp. 535. Multidisciplinary Digital Publishing Institute.
Ranjha, T. A., Rizvi, S. M. A. S., and Ahmad, J. (2020). Virtual Learning Strategies during COVID-19: A Case Study of The University of Lahore, Pakistan. Liberal Arts and Social Sciences International Journal (LASSIJ) 4, 427-441.
Sarma, R., Vig, S., Rathore, P., Pushpam, D., Mishra, S., Gupta, N., Garg, R., Kumar, V., Bharati, S. J., and Bhatnagar, S. (2020). Concerns of health care professionals managing non-COVID patients during the COVID-19 pandemic: a descriptive cross-sectional study. Indian Journal of Palliative Care 26, S21.
Shaheen, M., Siraj, U., and Bhatti, M. N. (2020). Covid-19 Pandemic and its Politico-Economic Implications: A Study of Pakistan. Liberal Arts and Social Sciences International Journal 4, 42-51.
Siddique A, F. A., Idrees N, Hafez MM, Ali Q, MALIK A (2020). The epidemics of COVID-19 Biol. Clin. Sci. Res. J 2020.
Simon, J., Porterfield, P., Bouchal, S. R., and Heyland, D. (2015). 'Not yet'and 'Just ask': barriers and facilitators to advance care planning—a qualitative descriptive study of the perspectives of seriously ill, older patients and their families. BMJ supportive & palliative care 5, 54-62.
Sinuff, T., Dodek, P., You, J. J., Barwich, D., Tayler, C., Downar, J., Hartwick, M., Frank, C., Stelfox, H. T., and Heyland, D. K. (2015). Improving end-of-life communication and decision making: the development of a conceptual framework and quality indicators. Journal of pain and symptom management 49, 1070-1080.
Tabassum, S. A., Bibi, T., Tariq, F., Tariq, S., Raza, S., Hafeez, M. M., and Rana, M. A. (2020). Unusual leukemoid reaction in a COVID-19 patient: A case report. Biological and Clinical Sciences Research Journal 2020, e034.
Voo, T. C., Senguttuvan, M., and Tam, C. C. (2020). Family presence for patients and separated relatives during COVID-19: physical, virtual, and surrogate. Journal of bioethical inquiry 17, 767-772.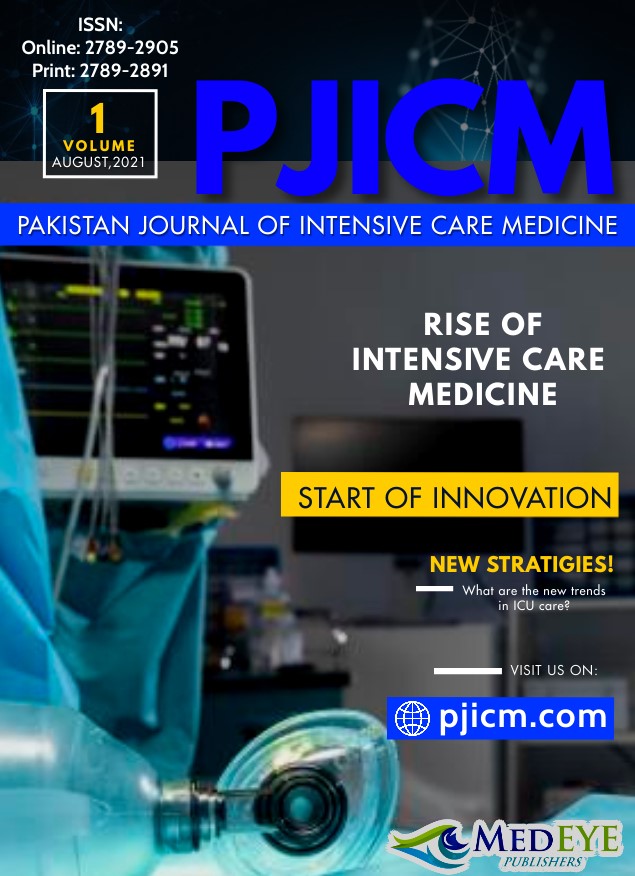 Downloads
How to Cite
Rana, M., Arif, B., Siddiqui, M., Raza, S., Hashmi, M., & Hafeez, M. (2021). STRATEGIES TO ALLOW FAMILY VISITS TO ACUTE CARE UNITS DURING THE COVID-19 PANDEMIC. Pakistan Journal of Intensive Care Medicine, 2021(1), 7. https://doi.org/10.54112/pjicm.v2021i1.7
License
Copyright (c) 2021 MA Rana, B Arif, MH Siddiqui, S Raza, M Hashmi, MM Hafeez
This work is licensed under a Creative Commons Attribution-NonCommercial 4.0 International License.