COVID 19 AND SPONTANEOUS PNEUMOTHORAX, RETROSPECTIVE CASE SERIES
Keywords:
Barotrauma, COVID-19, Non-invasive ventilation, Pneumothorax, PSILI, Patients self-induced lung injury
Abstract
COVID-19 Sars Co V2 or Corona Virus disease is a highly infectious multisystem disease with severe acute lung injury leading to ARDS and respiratory failure as its main complication. Spontaneous pneumothorax is a complication which is though uncommon but could be life threatening and hence carries poor prognosis. We hereby describe a series of six cases of spontaneous pneumothorax which were seen in Bahria International Hospital COVID management unit during last 3 months of COVID-19 surge in Lahore These cases indicate that multiple factors are associated with development of spontaneous pneumothorax in COVID-19 pneumonia patients but main role is played by the increased inflammatory response and can be regarded as a potential underlying mechanism of pneumothorax in such patients, leading to acute decompensation and worsening of respiratory failure and poor outcome.
References
Alharthy, A., Faqihi, F., Memish, Z. A., and Karakitsos, D. (2020). Lung injury in COVID-19—an emerging hypothesis. ACS chemical neuroscience 11, 2156-2158.
Bassetti, M., Vena, A., and Giacobbe, D. R. (2020). The novel Chinese coronavirus (2019‐nCoV) infections: Challenges for fighting the storm. European journal of clinical investigation 50.
Carron, M., Freo, U., BaHammam, A., Dellweg, D., Guarracino, F., Cosentini, R., Feltracco, P., Vianello, A., Ori, C., and Esquinas, A. (2013). Complications of non-invasive ventilation techniques: a comprehensive qualitative review of randomized trials. British journal of anaesthesia 110, 896-914.
Consoli, L., Bendotti, V., Cicchinelli, S., Gaioni, F., Prandolini, P., Bettonagli, M., and Terragnoli, P. (2020). 2019 novel coronavirus (COVID-19) pneumonia complications: the importance of lung ultrasound. Journal of ultrasound, 1-4.
do Lago, V. C., Cezare, T. J., Fortaleza, C. M. C. B., Okoshi, M. P., Baldi, B. G., and Tanni, S. E. (2020). Does COVID-19 increase the risk for spontaneous pneumothorax? The American journal of the medical sciences 360, 735-737.
Flower, L., Carter, J.-P. L., Lopez, J. R., and Henry, A. M. (2020). Tension pneumothorax in a patient with COVID-19. BMJ Case Reports CP 13, e235861.
Hoffmann, M., Kleine-Weber, H., Schroeder, S., Krüger, N., Herrler, T., Erichsen, S., Schiergens, T. S., Herrler, G., Wu, N.-H., and Nitsche, A. (2020). SARS-CoV-2 cell entry depends on ACE2 and TMPRSS2 and is blocked by a clinically proven protease inhibitor. cell 181, 271-280. e8.
Li, W., Xu, S., Li, P., Wang, G., and Wang, Z. (2021). Pneumothorax in 2019 novel coronavirus pneumonia needs to be recognized. Infection 49, 367-368.
López Vega, J. M., Parra Gordo, M. L., Diez Tascón, A., and Ossaba Vélez, S. (2020). Pneumomediastinum and spontaneous pneumothorax as an extrapulmonary complication of COVID-19 disease. Emergency Radiology 27, 727-730.
Manna, S., Maron, S. Z., Cedillo, M. A., Voutsinas, N., Toussie, D., Finkelstein, M., Steinberger, S., Chung, M., Bernheim, A., and Eber, C. (2020). Spontaneous subcutaneous emphysema and pneumomediastinum in non-intubated patients with COVID-19. Clinical imaging 67, 207-213.
Martinelli, A. W., Ingle, T., Newman, J., Nadeem, I., Jackson, K., Lane, N. D., Melhorn, J., Davies, H. E., Rostron, A. J., and Adeni, A. (2020). COVID-19 and pneumothorax: a multicentre retrospective case series. European Respiratory Journal 56.
McGuinness, G., Zhan, C., Rosenberg, N., Azour, L., Wickstrom, M., Mason, D. M., Thomas, K. M., and Moore, W. H. (2020). Increased incidence of barotrauma in patients with COVID-19 on invasive mechanical ventilation. Radiology 297, E252-E262.
Poor, H. D., Ventetuolo, C. E., Tolbert, T., Chun, G., Serrao, G., Zeidman, A., Dangayach, N. S., Olin, J., Kohli‐Seth, R., and Powell, C. A. (2020). COVID‐19 critical illness pathophysiology driven by diffuse pulmonary thrombi and pulmonary endothelial dysfunction responsive to thrombolysis. Clinical and Translational Medicine 10, e44.
Sahn, S. A., and Heffner, J. E. (2000). Spontaneous pneumothorax. New England Journal of Medicine 342, 868-874.
Salehi, S., Abedi, A., Balakrishnan, S., and Gholamrezanezhad, A. (2020). Coronavirus disease 2019 (COVID-19): a systematic review of imaging findings in 919 patients. Ajr Am J Roentgenol 215, 87-93.
Touzani, S., Kabbat, M., Zoulgami, H., Houari, N., Elbouazzaoui, A., Boukatta, B., and Kanjaa, N. (2021). Pneumothorax complicating COVID-19 pneumonia: A case report and review. Int J Case Rep Images 12, 101214Z01ST2021.
Tucker, L., Patel, S., Vatsis, C., Poma, A., Ammar, A., Nasser, W., Mukkera, S., Vo, M., Khan, R., and Carlan, S. (2020). Pneumothorax and pneumomediastinum secondary to COVID-19 disease unrelated to mechanical ventilation. Case reports in critical care 2020.
Xu, Z., Shi, L., Wang, Y., Zhang, J., Huang, L., Zhang, C., Liu, S., Zhao, P., Liu, H., and Zhu, L. (2020). Pathological findings of COVID-19 associated with acute respiratory distress syndrome. The Lancet respiratory medicine 8, 420-422.
Yang, X., Yu, Y., Xu, J., Shu, H., Liu, H., Wu, Y., Zhang, L., Yu, Z., Fang, M., and Yu, T. (2020). Clinical course and outcomes of critically ill patients with SARS-CoV-2 pneumonia in Wuhan, China: a single-centered, retrospective, observational study. The Lancet Respiratory Medicine 8, 475-481.
Zantah, M., Dominguez Castillo, E., Townsend, R., Dikengil, F., and Criner, G. J. (2020). Pneumothorax in COVID-19 disease-incidence and clinical characteristics. Respiratory Research 21, 1-9.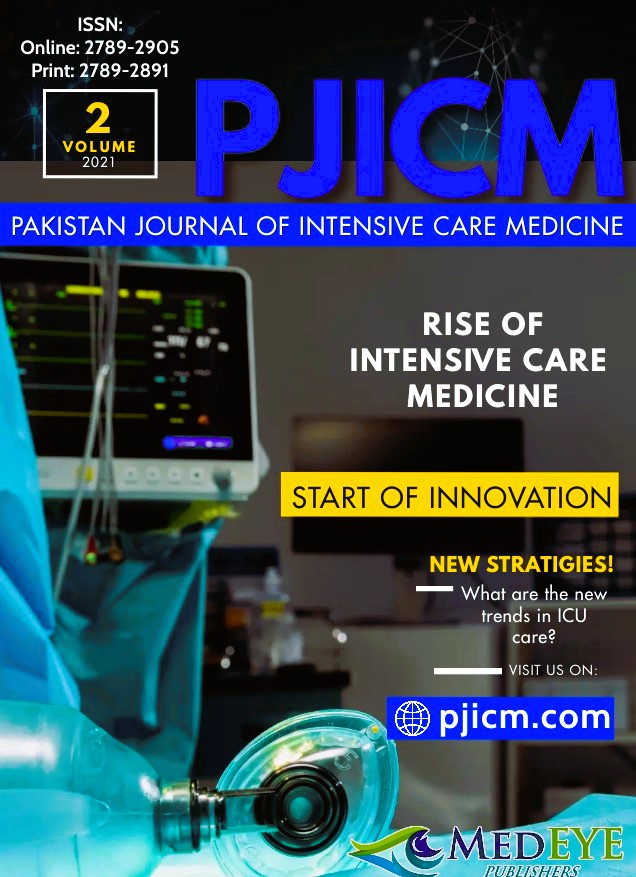 Downloads
How to Cite
PERVAIZ, R., BIBI, T., ARIF, B., MUNAWAR, A., SITARA, R., QAYYUM, M., RAZA, A., SHAHPER, A., & HAFEEZ, M. (2022). COVID 19 AND SPONTANEOUS PNEUMOTHORAX, RETROSPECTIVE CASE SERIES. Pakistan Journal of Intensive Care Medicine, 2022(1), 10. https://doi.org/10.54112/pjicm.v2022i1.10
License
Copyright (c) 2022 R PERVAIZ, T BIBI, B ARIF, A MUNAWAR, R SITARA, MA QAYYUM, A RAZA, A SHAHPER, MM HAFEEZ
This work is licensed under a Creative Commons Attribution-NonCommercial 4.0 International License.