INNOVATION OF AUDIO-VISUAL TRIAGE SYSTEM TO COMBAT THE SPREAD OF COVID-19 INFECTION AND ITS EFFICACY: A NOVEL STRATEGY
Keywords:
Audio-Visual Triage System, Anxiety levels, COVID-19 Spread, GAD-7 Score, Healthcare professionals, Screening Strategy
Abstract
During the novel coronavirus pandemic, also known as SARS-CoV-2 or COVID-19 pandemic, frontline healthcare professionals suffered psychological as well as pathological trauma due to the lack of preparation to cope with this unforeseen situation. The protocols to prevent the spread of this disease proved to be less effective than anticipated. In these circumstances, improvement of the existing triage system was felt and an AUDIO-VISUAL TRIAGE (AVT) system was introduced to enhance confidence as well as increase the safety of frontline healthcare professionals. The current analysis was performed from March 21, 2020, to April 28, 2020, until the completion of sixty response forms, at Bahria Town International Hospital, Lahore. Thirty participants (Group A) deployed on visual triage and other thirty (Group B) on AVT for screening suspected cases of COVID-19 infection. Anxiety levels were measured by using the GAD-7 scoring system and the participants of both groups were periodically tested for COVID-19 infection by PCR. Independent t-test was used to evaluate the significance of different variables at a confidence level of 95%. The result of the current study revealed the effectiveness of AVT for the screening of COVID-19 patients. There was a statistically significant increase in anxiety levels and severe acute respiratory syndrome coronavirus 2 (SARS-CoV-2) infection rate in group A as compared to group B. Almost all participants in group A wanted to shift their place of work or ready to quit the job if they were forced to perform their duties at the same visual triage. AVT system for COVID-19 screening found to be more safe and less stressful than visual triage. It is not only a simple and effective way to prevent the spread of diseases but also boosted the confidence of frontline healthcare professionals to fight against coronavirus spread.
References
Mason, D. J., & Friese, C. R. (2020, March). Protecting health care workers against COVID-19—and being prepared for future pandemics. In JAMA Health Forum, 1(3): e200353-e200353).
Habibi, R., Burci, G. L., de Campos, T. C., Chirwa, D., Cinà, M., Dagron, S., ... & Negri, S. (2020). Do not violate the International Health Regulations during the COVID-19 outbreak. The Lancet, 395(10225), 664-666.
Sivan, M., Halpin, S., & Gee, J. (2020). Assessing long-term rehabilitation needs in COVID-19 survivors using a telephone screening tool (C19-YRS tool). Advances in Clinical Neurosciences and Rehabilitation, 19(4), 14-17.
Spitzer, R. L., Kroenke, K., Williams, J. B., & Löwe, B. (2006). A brief measure for assessing generalized anxiety disorder: the GAD-7. Archives of internal medicine, 166(10), 1092-1097.
Bruijns, S. R., Wallis, L. A., & Burch, V. C. (2008). A prospective evaluation of the Cape triage score in the emergency department of an urban public hospital in South Africa. Emergency Medicine Journal, 25(7), 398-402.
FitzGerald, G., Jelinek, G. A., Scott, D., & Gerdtz, M. F. (2010). Emergency department triage revisited. Emergency Medicine Journal, 27(2), 86-92.
Bazyar, J., Farrokhi, M., & Khankeh, H. (2019). Triage systems in mass casualty incidents and disasters: a review study with a worldwide approach. Open access Macedonian Journal of Medical Sciences, 7(3), 482.
Kumar, M. S., Raut, R. D., Narwane, V. S., & Narkhede, B. E. (2020). Applications of industry 4.0 to overcome the COVID-19 operational challenges. Diabetes & Metabolic Syndrome: Clinical Research & Reviews, 14(5), 1283-1289.
Forsgärde, E. S., Attebring, M. F., & Elmqvist, C. (2016). Powerlessness: Dissatisfied patients' and relatives' experience of their emergency department visit. International Emergency Nursing, 25, 32-36.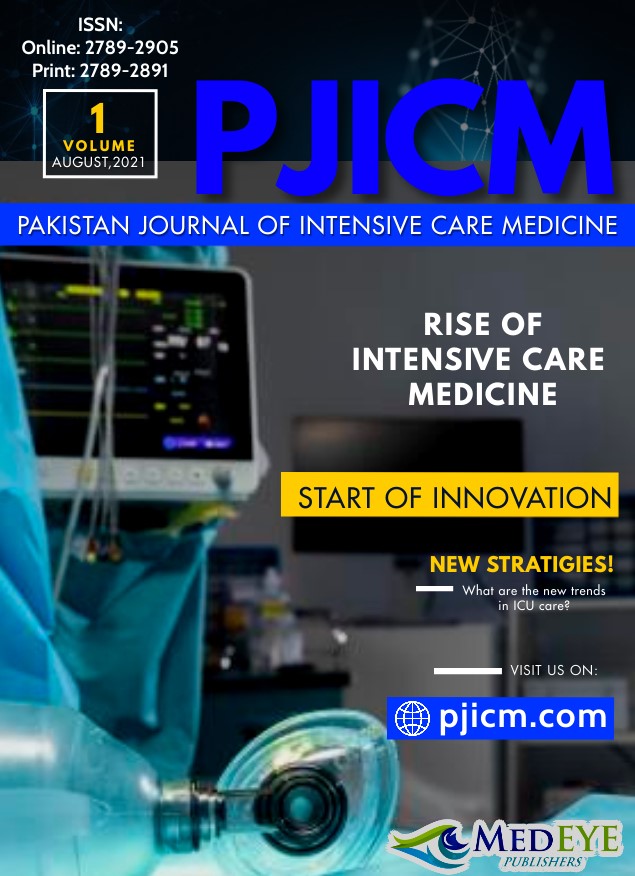 Downloads
How to Cite
Hafeez, M., Azhar, M., Chudhary, H., Nazar, W., & Rana, M. (2021). INNOVATION OF AUDIO-VISUAL TRIAGE SYSTEM TO COMBAT THE SPREAD OF COVID-19 INFECTION AND ITS EFFICACY: A NOVEL STRATEGY. Pakistan Journal of Intensive Care Medicine, 2021(1), 8. https://doi.org/10.54112/pjicm.v2021i1.8
Section
Original Research Articles
License
Copyright (c) 2021 MM Hafeez, M Azhar, HRZ Chudhary, W Nazar, MA Rana
This work is licensed under a Creative Commons Attribution-NonCommercial 4.0 International License.