MORTALITY AND COVID-19: A SNAPSHOT OF A TERTIARY CARE FACILITY IN PAKISTAN
Keywords:
Acute coronary syndrome, Biochemical markers, COVID-19 Infection, Comorbid conditions, Mortality
Abstract
Background: Since SARS CoV-2 infection began in China and has evolved into a pandemic, mortality associated with this illness has been under discussion and hypercoagubility, severe acute respiratory syndrome and septicemia with multiple organ insufficiency have been cursed as potential causes of death in cases infected with the novel coronavirus. We did a retrospective analysis of cases admitted to our highly dependent and intensive care unit, and we tried to identify the leading cause of death in our cases. Methods: This is a single center retrospective study carried out at Bahria International Hospital Lahore over a 3-month period (May 10th to July 10th 2020) in which we analyzed the clinical and biochemical profiles of the COVID-19 patients who died during this period. Results: A total of 108 patients were admitted during this period out of which 11 patients died. 7 of them were men and 4 women. Majority of them had sudden cardiac arrest due to acute coronary syndrome followed by multiorgan dysfunction syndrome and acute respiratory distress syndrome. Conclusion: Acute coronary syndrome due to hypercoagubility was the leading cause of death in our patients.
References
Aggarwal, G., Cheruiyot, I., Aggarwal, S., Wong, J., Lippi, G., Lavie, C. J., Henry, B. M., and Sanchis-Gomar, F. (2020). Association of cardiovascular disease with coronavirus disease 2019 (COVID-19) severity: a meta-analysis. Current problems in cardiology, 100617.
Ali, J., Ali, Q., Hafeez, M., and Malik, A. (2020). Clinical features, diagnosis and treatment of COVID-19. Biol Clin Sci Res J 2020, e032.
Azkur, A. K., Akdis, M., Azkur, D., Sokolowska, M., van de Veen, W., Brüggen, M. C., O'Mahony, L., Gao, Y., Nadeau, K., and Akdis, C. A. (2020). Immune response to SARS‐CoV‐2 and mechanisms of immunopathological changes in COVID‐19. Allergy 75, 1564-1581.
David, K. B., Thomas, N., and Solomon, J. K. (2020). Epidemiology of COVID-19 in Africa: daily cumulative index and mortality rate. International Journal of Infection Control 16, 1-5.
Fu, Z., Tang, N., Chen, Y., Ma, L., Wei, Y., Lu, Y., Ye, K., Liu, H., Tang, F., and Huang, G. (2020). CT features of COVID-19 patients with two consecutive negative RT-PCR tests after treatment. Scientific Reports 10, 1-6.
Gietema, H. A., Zelis, N., Nobel, J. M., Lambriks, L. J., van Alphen, L. B., Oude Lashof, A. M., Wildberger, J. E., Nelissen, I. C., and Stassen, P. M. (2020). CT in relation to RT-PCR in diagnosing COVID-19 in The Netherlands: A prospective study. PloS one 15, e0235844.
Lauretani, F., Ravazzoni, G., Roberti, M. F., Longobucco, Y., Adorni, E., Grossi, M., De Iorio, A., La Porta, U., Fazio, C., and Gallini, E. (2020). Assessment and treatment of older individuals with COVID-19 multi-system disease: clinical and ethical implications. Acta Bio Medica: Atenei Parmensis 91, 150.
Lima, C. K. T., de Medeiros Carvalho, P. M., Lima, I. d. A. A. S., de Oliveira Nunes, J. V. A., Saraiva, J. S., de Souza, R. I., da Silva, C. G. L., and Neto, M. L. R. (2020). The emotional impact of Coronavirus 2019-nCoV (new Coronavirus disease). Psychiatry research 287, 112915.
Mady, A., Ramdan, O., Al Yousef, R., Ishag, A., Bakirova, G., Kuhail, A., Shahzad, S., El-Etreby, W., Mumtaz, S., and Almozainy, S. (2020). COVID 19 critical care training surge experience for physicians in riyadh health cluster one, Saudi Arabia. Biological and Clinical Sciences Research Journal 2020, e041-e041.
Nadeem, U., Anjum, N., Farooq, F., and Gillani, S. (2021). A SONOGRAPHIC EVALUATION OF PEDIATRIC ACUTE ABDOMINAL PAIN: A SYSTEMATIC REVIEW. Biological and Clinical Sciences Research Journal 2021, e013-e013.
Nicola, M., O'Neill, N., Sohrabi, C., Khan, M., Agha, M., and Agha, R. (2020). Evidence based management guideline for the COVID-19 pandemic-Review article. International Journal of Surgery.
Seah, I., and Agrawal, R. (2020). Can the coronavirus disease 2019 (COVID-19) affect the eyes? A review of coronaviruses and ocular implications in humans and animals. Ocular immunology and inflammation 28, 391-395.
Siddique, A., Fateh, A., Idrees, N., Ali, Q., Hafeez, M., and Malik, A. (2020). The epidemics of COVID-19. Biological and Clinical Sciences Research Journal 2020, e030-e030.
Tabassum, S., Bibi, T., Tariq, F., TARIQ, S., RAZA, S., HAFEEZ, M., and RANA, M. (2020). UNUSUAL LEUKEMOID REACTION IN A COVID-19 PATIENT: A CASE REPORT Biol Clin Sci Res J 8, 16PM.
Tu, W.-J., Cao, J., Yu, L., Hu, X., and Liu, Q. (2020). Clinicolaboratory study of 25 fatal cases of COVID-19 in Wuhan. Intensive care medicine 46, 1117-1120.
Wu, J., Shen, J., Han, Y., Qiao, Q., Dai, W., He, B., Pang, R., Zhao, J., Luo, T., and Guo, Y. (2021). Upregulated IL-6 Indicates a Poor COVID-19 Prognosis: A Call for Tocilizumab and Convalescent Plasma Treatment. Frontiers in immunology 12, 455.
Zheng, F., Tang, W., Li, H., Huang, Y., Xie, Y., and Zhou, Z. (2020a). Clinical characteristics of 161 cases of corona virus disease 2019 (COVID-19) in Changsha. European Review for Medical and Pharmacological Sciences 24, 3404-3410.
Zheng, T., Yang, C., Wang, H. Y., Chen, X., Yu, L., Wu, Z. L., and Sun, H. (2020b). Clinical characteristics and outcomes of COVID‐19 patients with gastrointestinal symptoms admitted to Jianghan Fangcang Shelter Hospital in Wuhan, China. Journal of medical virology 92, 2735-2741.
Zhu, Y., Gao, Z.-H., Liu, Y.-L., Xu, D.-Y., Guan, T.-M., Li, Z.-P., Kuang, J.-Y., Li, X.-M., Yang, Y.-Y., and Feng, S.-T. (2020a). Clinical and CT imaging features of 2019 novel coronavirus disease (COVID-19). Journal of Infection 81, 147-178.
Zhu, Y., Xie, J., Huang, F., and Cao, L. (2020b). The mediating effect of air quality on the association between human mobility and COVID-19 infection in China. Environmental research 189, 109911.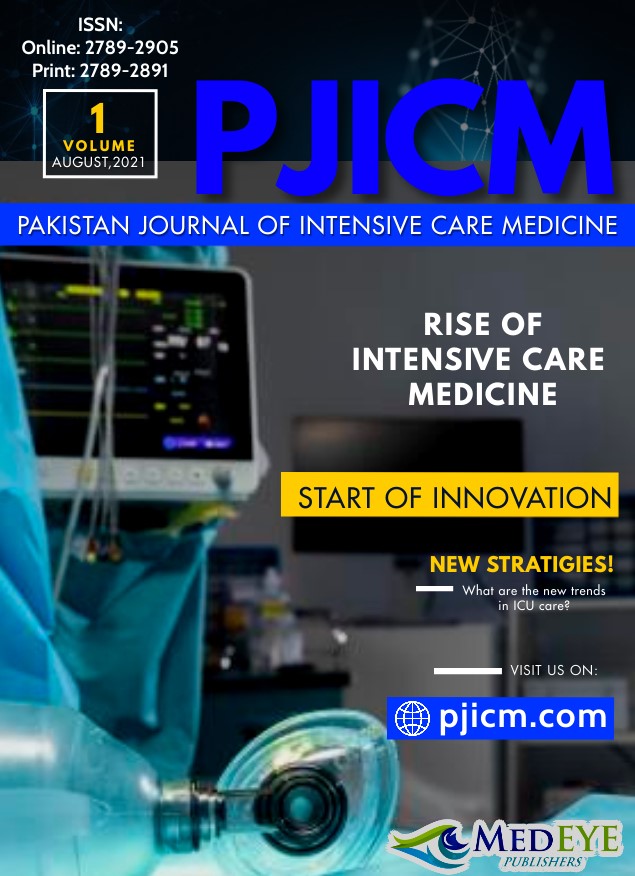 Downloads
How to Cite
Rana, M., Qayyum, A., Hashmi, M., Saif, M., Munir, M., Pervaiz, R., Iqbal, S., & Hafeez, M. (2021). MORTALITY AND COVID-19: A SNAPSHOT OF A TERTIARY CARE FACILITY IN PAKISTAN . Pakistan Journal of Intensive Care Medicine, 2021(1), 3. https://doi.org/10.54112/pjicm.v2021i1.3
Section
Original Research Articles
License
Copyright (c) 2021 MA Rana, A Qayyum, M Hashmi, MMU Saif, MF Munir, R Pervaiz, S Iqbal, MM Hafeez
This work is licensed under a Creative Commons Attribution-NonCommercial 4.0 International License.